DROP OFF OR PICK UP AND DELIVERY
*Merry Christmas and Happy New Year*
In Honor of the upcoming Holidays, our establishments will be closed during this holiday celebration. Starting December 24th-26th will be closed. We would like to give these days off to our team, to be with their family and friends. We are grateful for all of their hard work this year. Rush services are available until Thursday Dec 22nd . Any requests that are submitting after 3pm on Thursday Dec 22nd will be placed for return the following week starting December 27th (Tuesday).
New Year's Holiday Closure; December 31st, January 1st and January 2nd.
Business Hours are extended prior to the holiday. For more information during open hours, Call; 415-991-5102. Or emaill anasvaletcleaners@gmail.com
Schedule a Pick up or Drop off Dry Cleaning Service
Thank you for choosing Ana's Pick Up and Delivery Valet Cleaners. We currently service Marin and Sonoma County and are proud to offer competitive pricing and 100% natural cleaning. ​
What to Expect
Due to inflation; A Environmental Fee of 2.75% is added per order
Service Fee; Orders below $80 are added a service fee depending on the city or town. If an order is above $80 no additional service fee is added. Please check the Chart below
Minimum requirement for Door to Door Service; $20.00 If order does not meet requirement, Adjustments will be made.
All pick ups must be submitted before 2:30pm or one day before to guarantee scheduling. All requests submitted after 2:30pm will be postponed for the next available day.
Upon Submitting your request; please have your order in a Laundry or Plastic Bag ready outside the location. Drivers are dispatched throughout the day between 10am-4pm
When submitting a pick up please provide correct information that is associated with your account.
Please review your Delivery Service, Fees may have changed.
| Location | Delivery | Location | Delivery |
| --- | --- | --- | --- |
| Kentfield, CA | $4.99 | Fairfax, CA | $5.25 |
| Ross, CA | $4.99 | Mill Valley, CA | $4.99 |
| San Rafael, CA | $4.99 | Petaluma, CA | $7.99 |
| Corte Madera, CA | $4.99 | Tiburon, CA | $5.99 |
| Larkspur, CA | $4.99 | Sausalito, CA | $5.99 |
| San Anselmo, CA | $4.99 | San Francisco, CA | $7.99 |
| Belvedere, CA | $5.99 | Rohnert Park, CA | $6.99 |
| Greenbrae, CA | $4.99 | Santa Rosa, CA | $7.99 |
| | | | |
​
Hours of Operation
Marin
Tues-Fri 9a to 5:30p
Saturday 10a to 3p
Sun-Mon Closed
Sonoma
Mon-Fri 7:30a to 4p
Sat-Sun Closed
Sonoma County
1460 East Cotati Avenue, Unit L
Rohnert Park, CA, 94928
Marin County
​​935A Sir Francis Drake Blvd.
Kentfield, CA, 94904​​​
Reusable Garment and Laundry Bags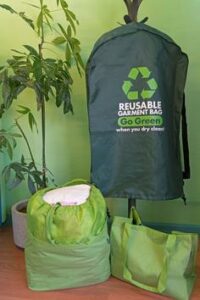 While the reusable bags are an additional cost, we only charge our purchase price in order to encourage everyone to be as sustainable as possible. Please consider making a one-time minimal investment in our reusable laundry or garment bags to help us limit and eventually eliminate the use of plastic bags.  
Help us save the planet, Reduce Waste
Recycle your hangers & supplies
Cut down on your Plastic consumption
Be part of the change
Use Re-usable Laundry bags